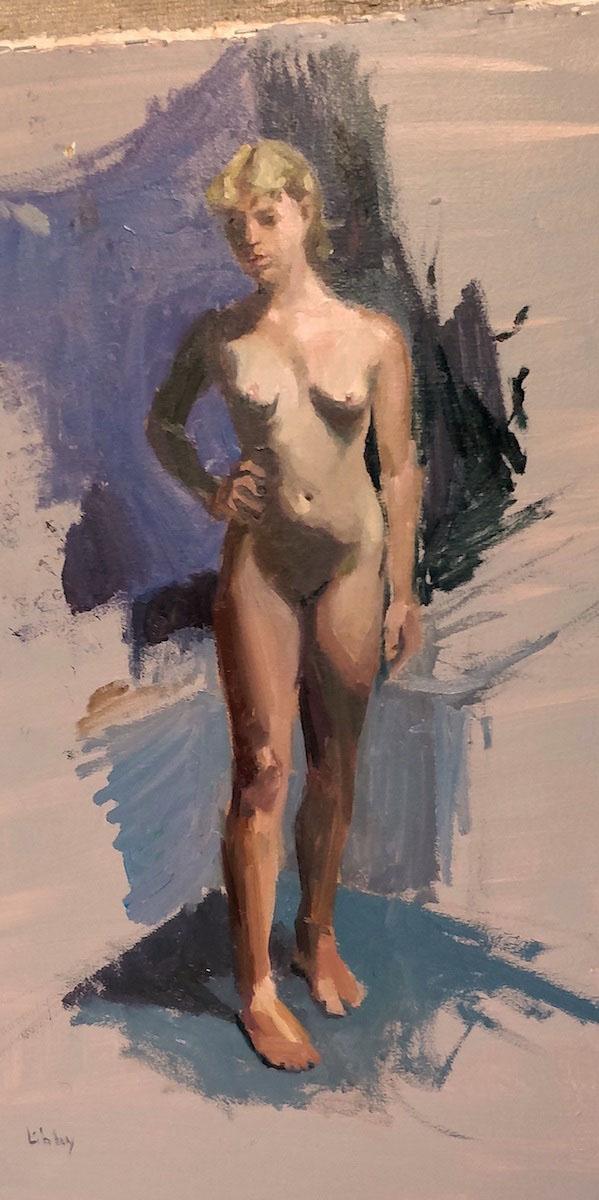 Painting the Figure in Oil
This class has already started. Please call to register.
In this one-session workshop, you will see the figure as a whole, in harmony with the environment. You will learn to abstract the figure and focus on seeing larger color and value relationships, while gaining a deeper understanding of basic anatomical landmarks. You will learn to see and paint the effect of light on skin and the environment without getting too caught up in details.
First, we will start with the lay-in and gesture. Next, you will paint the figure using large color shapes and simple, strong color relationships between the figure and its environment. You will learn how to use the background color to help find the right skin color for your model.
After a brief instructor intro and demonstration, there will be individual attention at the easel. The instructor will respond to the needs of each student and address each level of development. Classes are appropriate for all skill levels.
Student Supply List:
Suggested Oil paints: If you have a palette you're used to working in you may bring that


Titanium white (or white of your choice)
Naples Yellow
Yellow Ochre
Venetian Red
Cad Yellow Deep
Cad Yellow Lt
Cad Orange
Cerulean Blue Hue, or Cerulean Blue or Pthalo Blue
Ultramarine Blue
Burnt Umber
Raw Umber
Ivory Black
Alizarin Crimson

Palette
Medium – bring the medium you're used to using or Liquin is what I'm currently using
Turpenoid
Lidded jar or tin cup for Turpenoid
Canson Canva pad or canvas to work on
Cotton rags or Viva paper towels (original, not with the pattern)
Silver bristle brushes (must order online) or Blick Masterstroke bristle brushes. One each filbert size 2,3,6 and two filbert size 4