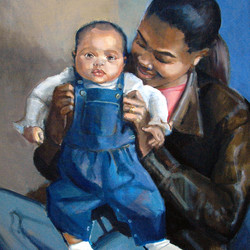 Nancy Bea Miller
Painting
Philadelphia-based artist Nancy Bea Miller is represented by gWatson Gallery in Stonington, ME; Gallery 222 in Malvern, PA, and the F.A.N. Gallery in Philadelphia, PA.
Ms. Miller has received numerous accolades for her work including Best Transparent Watercolor (Philadelphia Sketch Club), Top 100 Figurative Painters of 2017 (Buzzfeed), the Faculty Award (Pennsylvania Academy of the Fine Arts), Art & Change Grant ( Leeway Foundation), the Independence Foundation Fellowship in the Arts, the Valerie Lamb Smith Artist Residency, and the Francis Speight Award for Excellence in the Visual Arts.
Additionally, Ms. Miller is a freelance art writer and has written for magazines and publications including Fine Art Connoisseur Magazine, the Penn Review, and the Cecilia Beaux Forum. She writes a popular art history blog called Women in the Act of Painting. As an adjunct professor, she is on the faculty of Harcum College and Montgomery County Community College where she teaches studio art and art history.
Currently Teaching