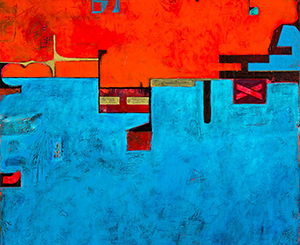 Welcome Gallery Exhibition: Lori F. Banks
March 2 – April 3, 2016
Main Line Art Center is proud to present the work of Professional Artist Member and abstract mixed media painter Lori F. Banks in the Welcome Gallery March 2, 2016 through April 3, 2016.
Lori F. Banks, a graduate of Cornell University, owned a graphic design/web and corporate branding business from 1982 until 2008, when the business was sold so she could pursue painting, teaching and new business ventures. Lori has exhibited her work in the last several years at: Jefferson University Hospital,The Muse Gallery, Google Works, Highwire Gallery, 3rd Street Gallery, Wayne Art Center, Main Line Art Center, Cheltenham Center for the Arts, McGopa Juried shows, Ringpfeil Advanced Dermatology Center, Mill Creek Capital Advisors and has been invited to exhibit her paintings in 2016 at the Urban Outfitters corporate offices in Philadelphia.
For more information about Lori F. Banks, visit her website.