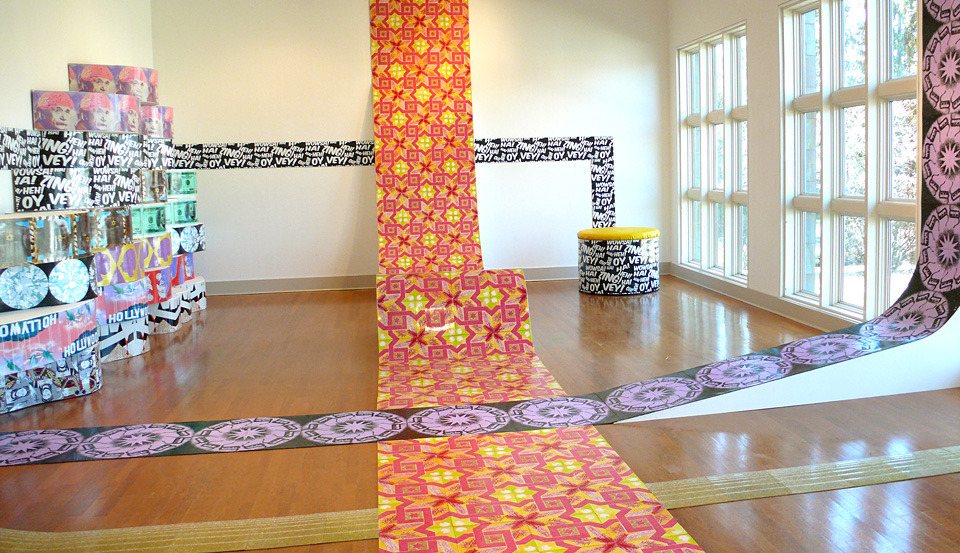 Urban Pop · Betsy Meyer Memorial Exhibition 2013
March 20 – April 12, 2013
Artist Talk: Friday, March 22, 2013 · 5:30-6:30pm
Opening Reception: 6:30-8:30pm
Featuring artists Leslie Friedman, DISTORT, and Jay Walker, Urban Pop, is an exhibition of works influenced by Pop Art and urban culture that explores the expansion of traditional artistic mediums into installation works referencing graffiti, half-pipes, and iconography.
This is the Art Center's ninth annual exhibition celebrating the spirit of Teaching Artist and friend Betsy Meyer, who inspired those around her to experiment and push personal and artistic boundaries.
About the Urban Pop Artists:
Combining classical training with the intense creative energy of graffiti, DISTORT has impacted the streets and galleries alike. Now living in Jersey City, DISTORT earned a BFA from the University of Pennsylvania and a Certificate in Painting from the Pennsylvania Academy of Fine Arts. In 2010, he presented his work in a solo show at the Works on Paper Gallery in Philadelphia. With subsequent shows in New York and New Jersey, his sculptural installations and paintings on canvas soon combined into his own original formats of "scrolls" and "shields." Together with The Element Tree, a cultural showcase and store in Weehawken, NJ, DISTORT has completed murals at Art Basel Miami as well as locations across North Jersey. He continues to create challenging work inspired by his admiration of classicism and the intensity of the present.
Leslie Friedman is a printmaker by training, living in Philadelphia, who explores print, pattern, and multiples through large scale installations. Friedman's love for printmaking began in her hometown of Providence, RI and blossomed in Buenos Aires, Argentina, where she lived and established a printmaking studio from 2005-2007. In 2011, Friedman earned an MFA in printmaking at the Tyler School of Art at Temple University (Philadelphia), where she taught two semesters of serigraphy. She continues to teach in Tyler's BFA Printmaking and Visual Studies programs, as well as at The University of the Arts (Philadelphia), and Muhlenberg College (Allentown, PA). Friedman co-founded an artist-run project space in Philadelphia called Napoleon. In 2012, she was named a fellow at the Center for Emerging Visual Artists (CFEVA) in their Career Development Program. Her recent project, Half Piped Ideas, presented at ArtPrize 2012 in Grand Rapids, MI, featured a functional skateboard half pipe covered in screenprinted tiles addressing the ups-and-downs of Jewish identity in mainstream American society.
Jay Walker, originally from South Texas, moved to Philadelphia in 2004 to study at the Pennsylvania Academy of Fine Arts. Upon earning his MFA in 2006, Walker began regularly showing in national group exhibitions at the Delaware Center for the Contemporary Arts (Wilmington), Bambi Gallery (Philadelphia), Pageant Gallery (Philadelphia), Artist Space (New York City), Space 38|39 (New York City), and most recently at Center of the Arts (Collingswood, NJ). In 2010, Walker had solo exhibitions at the Abington Art Center and the James Oliver Gallery (Philadelphia) and in January 2013 at the Crane Arts Building (Philadelphia) and Gordon College (Wenham, MA).
Amie Potsic began her tenure as Executive Director of Main Line Art Center at the end of July. Most recently she served as Director of the Career Development Program at the Center for Emerging Visual Artists (CFEVA) in Philadelphia where she curated exhibitions and planned professional development programming for emerging and professional artists. Potsic has curated over 70 exhibitions at venues including The Philadelphia Museum of Art, Pittsburgh Center for the Arts and Moore College of Art & Design. Potsic is also an established photographic artist who has exhibited her work nationally and internationally. In addition, she is currently Chair of the Art In City Hall Artistic Advisory Board to the City of Philadelphia's Office of Arts, Culture & the Creative Economy.