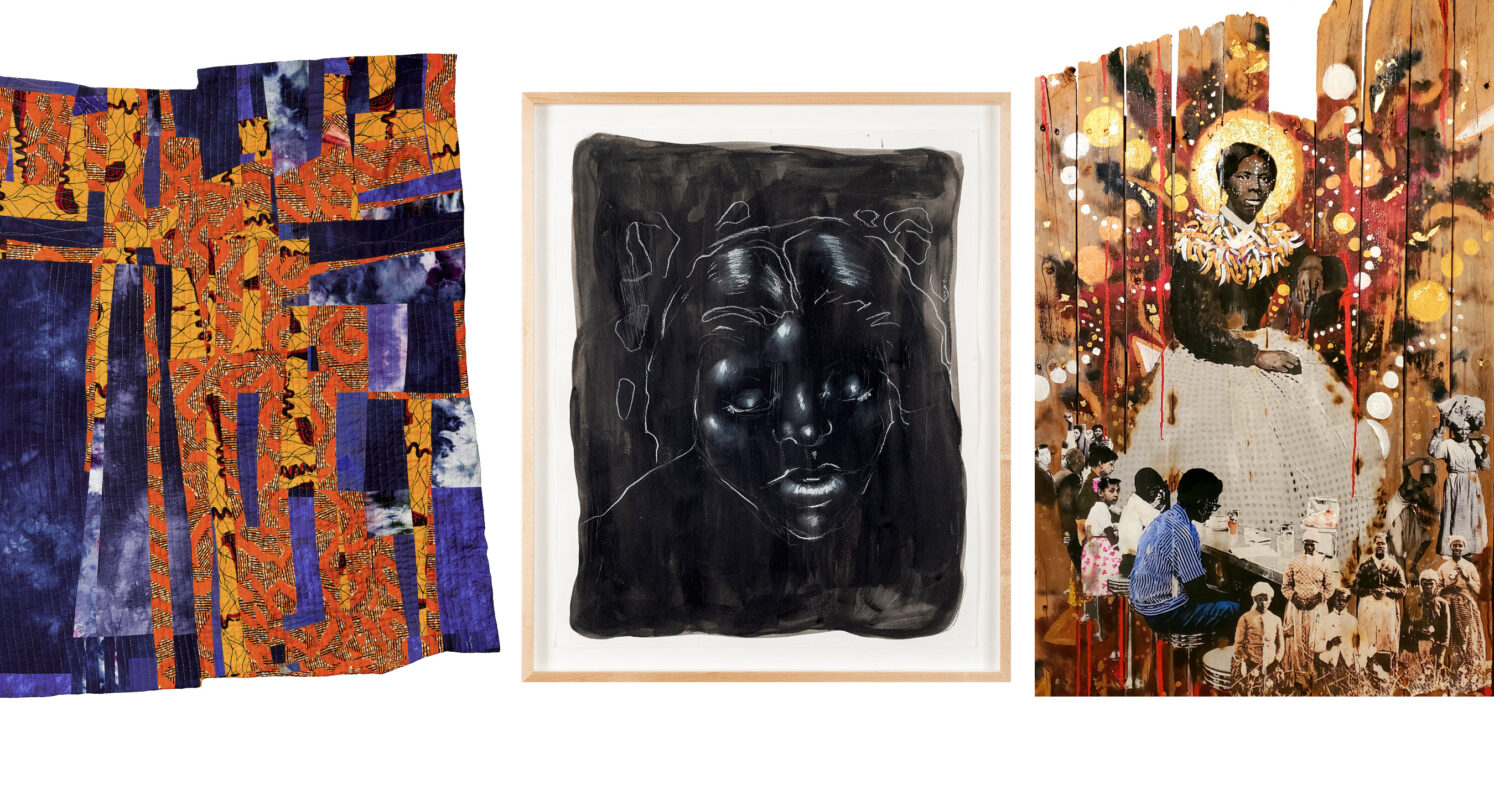 Speaking in Tongues
January 17 – February 24, 2023
Main Line Art Center
Opening Reception: Thursday, January 19th, 6:00 – 8:00pm (Pre-Register Here)
Speaking in Tongues, curated by Michael Clemmons, unites Toni Kersey, Patricia Renee' Thomas and Lavett Ballard for an exhibition that demonstrates a visually compelling dialogue. These artists negotiate a diverse range of media to exemplify the infinite language, narratives, realities and evidence of being, inclusive in the lived experiences and histories of women of the African diaspora.
In her essay Speaking in Tongues: Dialogics, Dialectics, and the Black Woman Writer's Literary Tradition, Mae Gwendolyn Henderson contends the ability of African American women to speak in tongues brings their voices and experiences into power and a unique consciousness…. Henderson likens the voice of African American women to glossolalia, the ability to speak in tongues or speak unknown languages, usually related to a spiritual context.
In their creative practices, these artists have artfully crafted distinct, visual voices in textile quilts, painting, and collages on wood, with a unique treatment of materials that is sculptural and epitomize a wealth of images, narratives, and expression.
Toni Kersey's textile quilts are asymmetrical, and the evident structure feels organic; these pieces build and ascend to tell their stories. These quilts evoke Kariamu Welsh's seven aesthetic senses, which Welsh contends are prevalent in African art. Particularly evident in the work are polyrhythm, polycentrism, and repetition; the quilts perform like jazz, possessing a visual cadence, the beat of music and unspeakable joy.
Patricia Renee' Thomas' portrait paintings and drawings center Black women and girls, exploring identity, and self-presentation environments which challenge the malevolence of racism and confront stereotypes. The surface of the work is visceral, lavishly painted, and sumptuous. Thomas recontextualizes and reinterprets in her own visual language a multiplicity of narratives while creating sites of contemplation and healing.
Lavett Ballard's layered and lyrical collages on wood fences, rounds and paper incorporate archival photographic images referencing cultural histories and memories with women of the diaspora front and center. Proliferations in multiple media, paint, gold leaf or wax are signatures or signifiers providing fluency and articulation to the visual narrative.
The work of these artists is not culturally and ancestrally uniform. Their visual voices and experiences are faceted, subtle, detailed narratives, histories, concepts, and perceptions on Blackness, speaking in tongues for your discernment.
Michael Clemmons, Curator – The Colored Girls Museum