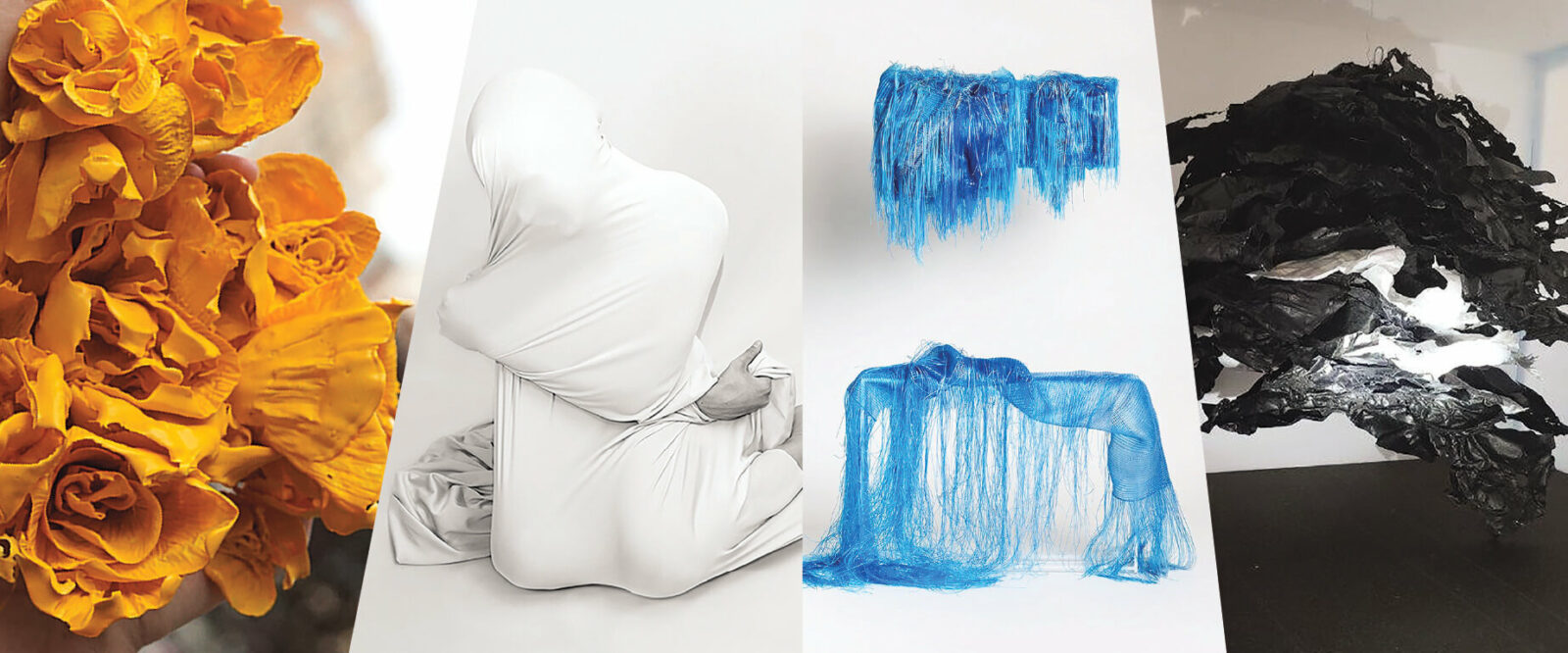 REEMERGENCE: 18th Annual Betsy Meyer Memorial Exhibition
November 5 – December 18, 2021
Artist Talks & Opening Reception: Saturday, November 6, 6:00 – 8:00pm (Pre-register here)
Main Line Art Center is proud to present REEMERGENCE, the 18th Annual Betsy Meyer Memorial Exhibition. Juried by James Claiborne, Curator of Public Programs at The Barnes Foundation, this year's recipients of the Meyer Family Award for Contemporary Art; Kate Bae, Francis Beaty, Kathleen Greco, and Michael Radyk, represent a broad and bold coalition of creators. The exhibition features site specific installations, sculpture, photographs, prints, and textiles that examine unconventional materials and processes, engaging the viewer in an exploration of forms and the spaces they inhabit.
The Meyer Family Award for Contemporary Art, presented by Main Line Art Center in conjunction with the Betsy Meyer Memorial Exhibition, honors chosen artists with an exhibition in the Center's gallery and an award of $1,000. This award and associated exhibition program is an effort to support talented contemporary artists, to honor deserving artists in the field, and to encourage excellence and experimentation in artistic practice, presentation, and community involvement.
Thank you to the Meyer family for their generous support, which makes this exhibition possible!
*All visitors to the Art Center age 18+ must be fully vaccinated against COVID-19. Masks are required.
Exhibiting Artists
Kate Bae
Born and raised in Busan, Korea, Kate Bae is an immigrant artist and independent curator based in New York. She holds an MFA from Rhode Island School of Design and a BFA from the School of the Art Institute of Chicago, both in painting. Bae has exhibited nationally and internationally including solo shows at the Sunroom Project Space in Wave Hill, Bronx, NY and the Deiglan Gallery in Akureyri, Iceland.
Bae has received awards and grants from Real Art Ways, MVP Chapter Lead Grant from Malikah Gender Justice Institute, Ora Lerman Trust, Creative Capital Professional Development Program and the NYFA Immigrant Artist Mentoring Program and has attended numerous residencies including Golden Foundation, the Studios at Mass MoCA, Trestle Gallery, the Wassaic Project, Chashama and Lower East Side Printshop Keyholder Residency.
Francis Beaty
Francis Beaty is a contemporary installation artist, painter and sculptor known for her interdisciplinary work and introspective style. Beaty's education in Architecture and Interior Design, followed by 25 years in the kitchen and bath industry, created the foundation for her work. Her art explores spontaneity, imperfection and chance. This evolving process is in line with her philosophical, ethical and imaginative goals. Her goal is to transform a space into an energized environment that transports the viewer (participant) from the unfocused everyday gaze into a dimension of discovery. Abstract, conceptual, free-flowing, organic and cerebral, Beaty is known for experimentation- taking disparate elements and bringing them together. She creates work that investigates personal connections through enigmatic, abstract forms. Her process begins with a visual diary that draws from emotional states, emphasizing capsules of time that crystalize feelings and words with color and form.
Beaty exhibits her work nationally and internationally. Recently, as a result of a 2019 Global Art Project Exhibition in Belgium and a summer residency in France, Beaty has been invited to exhibit in the Geuzenmaand Exhibition in the Netherlands in 2022.
Kathleen Greco
Kathleen Greco is a contemporary visual artist. Her interdisciplinary studio practice comprises works on paper, photography, and sculpture. She received her MFA in Studio Arts from the University of the Arts and a Bachelor of Science in Industrial Design from the Philadelphia College of Art. Her work has been featured in Artillery, Ginger, Hyperallergic, and the Washington Post. She has lectured at universities and colleges including, Lafayette College and the Royal College of Art London, England. Greco broadened her studio practice during a three week residency from the Civita Institute in the Etruscan hilltop town of Civita di Bagnoregio, Italy.
Greco's artwork has been exhibited in museums and galleries including the Museum of Art and Design New York, the Smithsonian National Museum of Natural History, Washington, D.C., the Hayward Gallery, England UK, the Delaware Contemporary, The Elisabet Ney Museum Texas, and SoLA Contemporary, Los Angeles, CA. Greco's sculpture was included in the collaborative Coral Reef Pod World's installation in the Central Pavilion at the Venice Biennale 2019, Venice, Italy.
Michael Radyk
Michael Radyk is an artist based in Philadelphia. Radyk weaves, cuts, sculpts, and manipulates his textiles into both two and three-dimensional sculptural forms. His work Swan Point is included in the Textile Collection of the Cleveland Museum of Art.
Michael received his MFA from the Rhode Island School of Design and Brown University's Sheridan Center for Teaching and Learning. He has taught at SCAD, RISD and the University of Georgia in Athens.
He served as the area chair of Crafts and Textiles at Kutztown University of Pennsylvania from 2011-2016. He is the former Director of Education for the American Craft Council and was the founding Editor in Chief of the journal American Craft Inquiry. Recent exhibitions include: "Structured," Textile Center, Joan Mondale Gallery, Minneapolis, MN; "Focus:Fiber-Kent State University Museum," Kent, OH; and the Invitational Biannual Exhibition, "International Fiber Art Fair," Seoul Arts Center in South Korea.