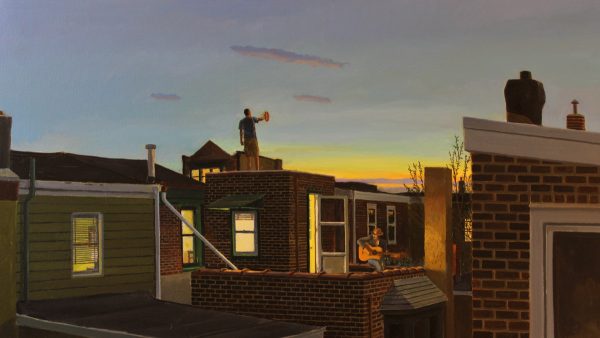 Plein Air Invitational
May 3 – June 5, 2021
Main Line Art Center is excited to host our first Plein Air Invitational featuring the work of twenty local acclaimed plein air artists. Our deepest thanks to Elaine Lisle, Teaching Artist and Plein Air artist, for helping us put together this inspiring exhibition.
Exhibiting Artists: Alexandra Tyng | Beth Bathe | Carol Kardon | Dori Spector| Douglas Martenson | Ed Bronstein | Elaine Lisle | Elise Phillips | Eliza Auth | Fred Danziger | Henry Martin | Joseph Sweeney | Larry Francis | Max Mason | Nancy Bea Miller | Nury R. Vicens | Patrick Connors | Patrick Neilson | Peter Van Dyck | Valerie Craig
En Plein Air is a French expression meaning "in the open air" or "outside." It was originally used to describe the revolutionary methods of Claude Monet and the Impressionists as they attempted to achieve an "intense impression of outdoor daylight and open air" in their paintings. The plein air approach was actually pioneered by John Constable in Britain c.1813, but it became fundamental to Impressionism. Its popularity was partly fueled by the development of oil paints in tubes in the 1870's, which allowed artists to easily carry their paint with them out of doors.
Today the term "plein air painter" still refers to artists who primarily paint outside from life, striving to capture the light as it changes, often working fairly small, to complete a painting in a single session.
Although painting outdoors has long been a technique used to create preparatory sketches or studies for larger works completed back in the studio, it was not used to create finished paintings before the nineteenth century.
From the artist's perspective, plein air painting has its unique advantages… being outside in beautiful weather, being able to find your subject wherever you are, and having a reason to travel to beautiful places to work. But, it can also be very challenging. The weather is not always cooperative. Trying to paint in the wind and cold is not easy, but sometimes it's the only way to capture the composition you are looking for. Passersby are usually friendly and supportive, but not always. Bugs, aggressive dogs, even the occasional curious cow can wreak havoc! No matter the challenges, I find that plein air painters are passionate about what they do and grab every chance they can to get out there and paint!
In the last 2 decades, plein air painting has had a major resurgence. Some of this is due to the popularity of plein air events all over the world, which have drawn artists to compete for prizes and recognition, and attracted art-loving spectators in droves.
What is particularly noticeable in the group of artists in this exhibition is how varied they are in style, media, and subject. Some render their subject very tightly while others have a much looser interpretation. A few of these artists work quite large and might return often to the same site, at the same time of day, to complete a particular work. Others work exclusively in the alla prima style, looking to capture a moment in a single one or two hour session. Most of these artists work in oil, but many also work in gouache, pastel and watercolor. The common thread throughout the work is the desire to capture natural light, working directly from nature.
I am thrilled to have assisted Main Line Art Center in putting together this exhibition of exceptional local plein air artists. All of the artists in this exhibit work locally and many have achieved national and even international success. What unites us all is our passion for painting and our love of the outdoors.
– Elaine Lisle, Teaching Artist & Plein Air Painter