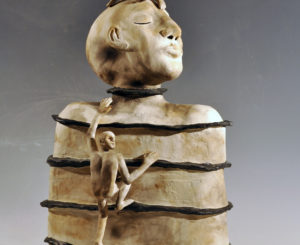 Playing with Fire: The Life and Work of Etta Winigrad
September 7 – October 20, 2019
Main Line Art Center is honored to present
Playing with Fire: The Life and Work of Etta Winigrad
, the first ever retrospective exhibition celebrating the creative evolution, artistic career, and abundant life of the Philadelphia based, esteemed ceramic sculptor. Much of Etta's inspiration comes from her extensive travels and resulting observations. When travelling abroad, Etta intentionally attempted to shed her western identity, removing the superficial cultural markers that mask our shared humanity. Through these experiences, Etta developed her view of the world as an organic being, and her belief that it exists for all to share equally and interact with, regardless of origin, identity or privilege. Primitive shape and metaphor form the basis of Etta's artistic vocabulary. Her unique and distinct smoking technique imprints the work with a timeless and emotional quality that purposely obscures the origin of her subjects, rendering them identifiable only as human. At once archaic and symbolic, whimsical and serious, Etta's sculptures attempt to illustrate ideas and concerns of existence by using realistic and fantastical elements. Observers are invited to draw on their own imagination and life experiences for interpretation and connection. For over 50 years, through clay and smoke, Etta has carefully explored the universal and elemental, human experience.
Opening Reception
Join us on
Saturday, September 14 from 6:00 to 9:00pm
for the opening reception of
Playing with Fire: The Life and Work of Etta Winigrad
. The event is free and open to the public.