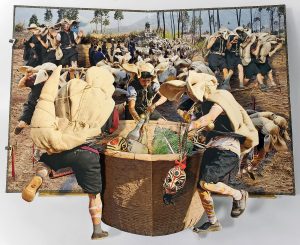 Lunar: A New Year
January 10 – February 26, 2022
This winter, Main Line Art Center is proud to present LUNAR: A New Year. Honoring this important Asian and Asian-American tradition, Curator Adam Chau has invited twelve conceptual artists to create a piece depicting an animal from the Zodiac calendar.
The featured artists represent diverse Asian cultures and communities, each celebrating the Lunar New Year in nuanced ways. Their contemporary artwork, drawing from traditional craft, challenges preconceptions of Asian representation and aesthetics while illuminating new and surprising insights into the animals of the Zodiac.
Featured Artists
Ryan Takaba | Sarah Petty | Mari Ogihara | Tomoko Abe | Catalina Cheng | Collette Fu | Aimee Lee | Eliot Park | Tyler Quintin | Isolina Minjeong Alva | August Lantz | Beth Lo
Thank you to our sponsors
Aqua | Bryn Mawr Trust | Morgan Stanley: Bruce Fryer, Financial Advisor | Anne & Richard Umbrecht | Cozen O'Connor | High Swartz LLP| RLB Law Group | David & Maureen Winigrad | Speedball | AMACO | Sang Candles
All visitors to the Art Center age 18+ must be fully vaccinated against COVID-19. Masks are required.