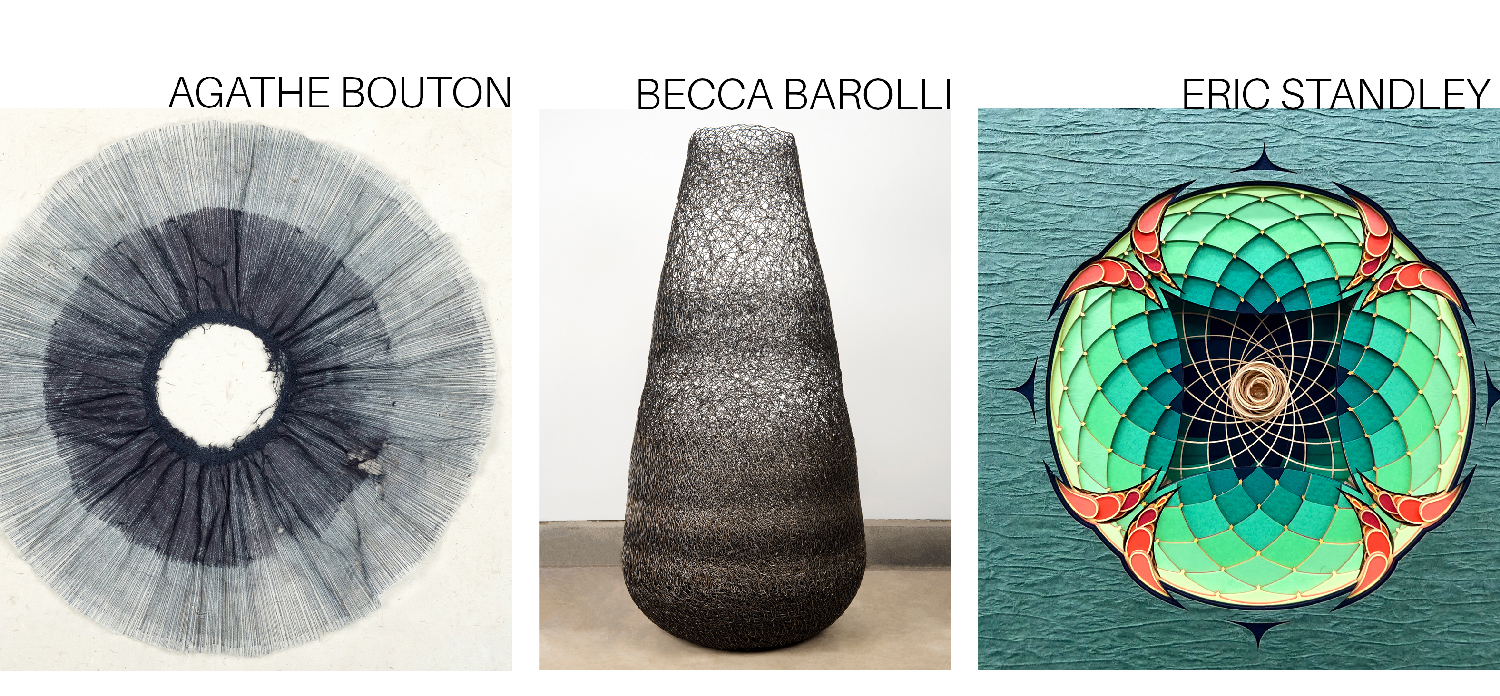 INTRICACY: The 19th Annual Betsy Meyer Memorial Exhibition
November 11 – December 22, 2022
Main Line Art Center
Artist Talks & Opening Reception: Saturday, November 12, 6:00 – 8:00pm (Pre-Register Here)
Main Line Art Center is proud to present INTRICACY: The 19th Annual Betsy Meyer Memorial Exhibition, juried by Susanna Gold. The exhibition will be on view from November 11 through December 22, 2022. Join us for an evening of artist talks, music, and refreshments on Saturday, November 12, 6-8 PM. Registration is required.
INTRICACY brings together three artists working in different mediums — sculpture, printmaking, and installation — for a deep-dive into the labor-intensive processes that yield their delicate yet complex forms. Becca Barolli bends, weaves, braids, and knits wire lengths with repetitive, compulsive movements to shape her work into seemingly soft forms that resemble anything but metal. Agathe Bouton surpasses our expectations of traditional printmaking with her large-scale compositions that are combined and recombined, cut, layered, and stitched into endless variations. Eric Standley builds his series of over 50 elaborate, radiating designs from layer upon layer of vibrant paper that has been cut with exacting precision, each intimately-scaled work demanding to be considered in its own right as well as within the broader installation context. When viewed in juxtaposition, the work of Barolli, Bouton, and Standley encourages the viewer to understand the detailed and complicated methods behind their equally detailed and complicated compositions
The Meyer Family Award for Contemporary Art, presented by Main Line Art Center in conjunction with the Betsy Meyer Memorial Exhibition, honors chosen artists with an exhibition in the Center's gallery and an award of $1,000. This award and associated exhibition program is an effort to support talented contemporary artists, to honor deserving artists in the field, and to encourage excellence and experimentation in artistic practice, presentation, and community involvement.
Exhibiting Artists
Becca Barolli
Becca Barolli was born in 1988 and raised in North Granby, Connecticut. She received a BFA in photography from the University of Connecticut in 2010 and an MFA from the San Francisco Art Institute in 2016.
As a graduate student she received a Cadogan Scholarship from The San Francisco Foundation and SOMArts Cultural Center. She was awarded the Ella King Torrey Award at graduation for creative innovation in her studio practice. Becca currently lives and works in Bethlehem, Connecticut. She completed a residency at The Studios at Mass MoCA in North Adams, MA and was the 2019 Senior Fellow at Gallery Route One in Point Reyes Station, CA. She has exhibited work at the de Young Museum, Andrea Schwartz Gallery and Chandran Gallery in San Francisco, CA, Miranda Kuo Gallery in New York, NY and Last Projects in Los Angeles, CA. Her work is collected internationally.
Agathe Bouton
Agathe Bouton is a French artist living and working in Philadelphia (since 2014) whose boundary-pushing printmaking and paper works exhibit influence from living and working in cities across the world. Bouton earned her BFA in Painting and Printmaking and her MFA in Arts and Textile Design from the prestigious ESSAA Duperré in Paris, France.
Bouton has lived and exhibited her work internationally in Paris (France), London (UK), Philadelphia and New York (USA), Rangoon (Burma/Myanmar), Abidjan (Ivory Coast), Dakar (Senegal) and Istanbul (Turkey). Bouton has received numerous awards for her work which is in the collections of French institutions as well as American public collections. She's represented by: Kismet Art & Co; AZART Gallery (NYC); and Martine Namy-Caulier Gallery in Paris, France.
Eric Standley
Eric Standley is an internationally recognized artist known for his extremely complex laser-cut paper artwork that are often hundreds of layers deep. His work has been exhibited in over 120 galleries and museums around the world and are a part of several international collections including the Palace of Sharjah of the United Arab Emirates, the Scherenschnitt Museum, Germany, and the Zupi Collection of São Paulo Brazil. Eric is a Professor in the School of Visual Arts at Virginia Tech. His work is represented by +Dinner of New York, NY and Media Force of Tokyo, Japan.