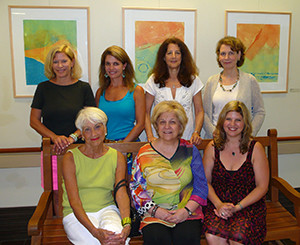 Exhibitions in the Community · Linda Dubin Garfield, Mary kane, and Rona Satten
May 24 – September 22, 2013
Location: Bryn Mawr Hospital
Main Line Art Center is proud to present the work of Professional Artist Members Linda Dubin Garfield, Mary Kane, and Rona Satten at Bryn Mawr Hospital, as part of our Exhibitions in the Community Program. Through this program, the Art Center places the work of our accomplished artists in libraries, hospitals, and other community settings. Exhibitions in the Community grew out of the Art Center's mission of making art more accessible by creating meaningful partnerships with local businesses and organizations.
About Bryn Mawr Hospital
Bryn Mawr Hospital, a member of Main Line Health, is a 307-bed licensed non-profit acute-care teaching hospital dedicated to helping the community stay well ahead on the path to life-long health. The Hospital has achieved Magnet™ designation by the American Nurses Credentialing Center (ANCC), the nation's highest award for recognizing excellence in nursing care, and has been nationally recognized by US News and World Reports, Truven (formerly Thomson Reuters) and other healthcare ratings organizations for its high quality patient care.
Bryn Mawr Hospital offers a wide range of services in primary and specialty care through its programs and centers including the Cancer Center, Orthopedic Center, Main Line Health Center in Newtown Square, Maternity Care, Neonatal Intensive Care Unit, Comprehensive Breast Center, Bariatric Center, Wound Healing Center, TMS Center for Depression, Neurovascular Center (a member of Jefferson Neuroscience Network) and the Pediatric Program in affiliation with Nemours/Alfred I. duPont Hospital for Children which includes both the Emergency Department and our dedicated inpatient pediatric unit. These services are all aided by a dedicated team of health care professionals and innovative technology such as the da Vinci®TM Surgical System's robotic technology.
Related Events + Programming