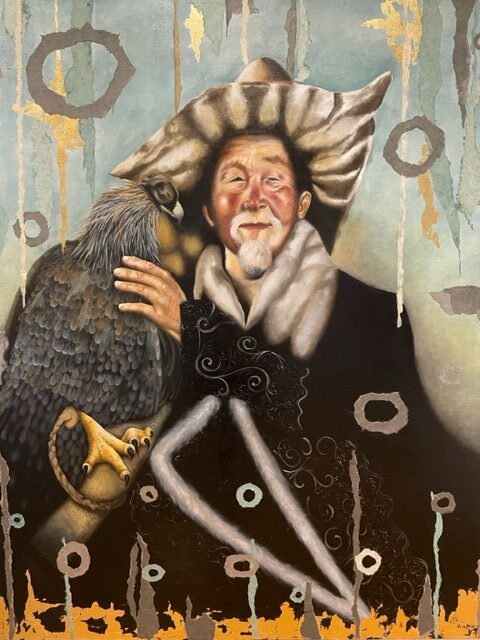 Ethnic Poetry
January 18 – February 24, 2023
Featuring the work of Teaching Artist Alicia Miño
In today's world, we must aim to reach common objectives such as economic wellness, universal health system for everyone, access to education and equal job opportunities for all the members of our society. Does globalization and economic systems allow nations to keep and protect their identities as unique and singular cultures? Are nations creating opportunities for individuals to preserve and cultivate their culture and customs?
As I dive deep into my research about this topic, I have found that immense wisdoms in spiritual and cultural heritage are slowly beginning to disappear. Younger generations are looking for newer experiences and opportunities outside their villages, cities, or even countries and as a result many customs are beginning to fade. A way to combat this phenomenon, is to consume, learn, and promote content that journal about culture regardless of origins.
If you are interested in learning about this subject. I would like to invite you to explore art from some of these fewer known cultures such as:
"The Earth's keeper," from the Adinkra tradition, is a collection of poetry expressing various themes that are related to the history, beliefs, and philosophy of the Asante. They mostly have a rich proverbial meaning since proverbs play an important role in Asante culture and are considered a sign of wisdom.
In "The Water Dancer" portrait, a young man (photo, courtesy of photographer Anges van der Logt) belongs to a Dayak indigenous tribe in South Kalimantan (Indonesia). In this area there are many Toucan bird species, which these Dayak tribes respect and use as inspiration for their dance and other folklore expressions. These birds make a very loud calls that are imitated by the Dayak dancers while they are performing this beautiful and very exceptional dance.
Art such as poetry and paintings have the beautiful ability to resurface knowledge from forgotten cultures. Art is the perfect vessel for maintaining our understanding of the past to navigate towards the future.
Artist Statement
The role of artists and art educators in our society is becoming more important through time. My purpose as an artist and educator is to provide skill-based learning to deepen the perception of the surroundings and provide tools to transfer that knowledge to the artwork. I believe that self-expression and creativity can be enhanced through learning effective art techniques and art history. This idea aligns with current scientific research that other artist had currently embrace and broadens the choices that they can make when creating their artwork. By acquiring solid draftsmanship, color theory, paint handling skills, perspective and mostly understanding how other artist create a process to express their personal perspective of our world, they can expand their artistic toolbox and develop their own personal communication method and painting language.