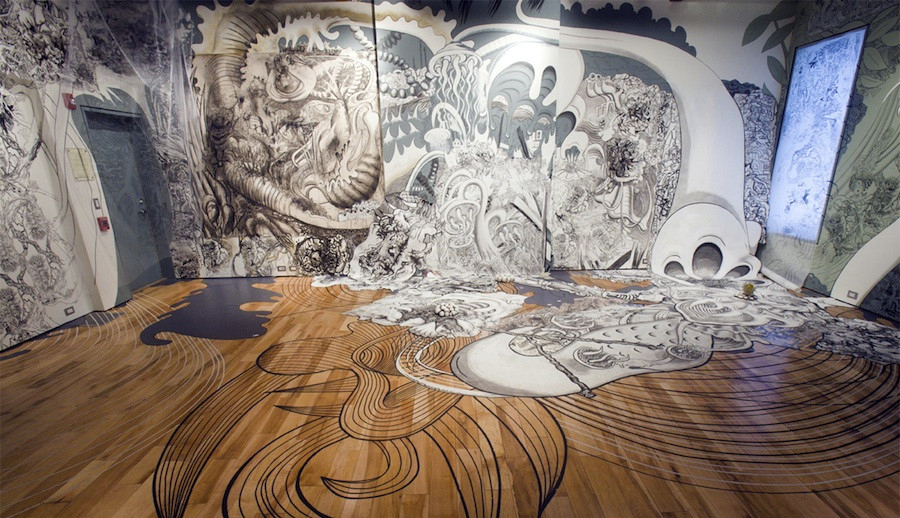 Draw the Line: 13th Annual Betsy Meyer Memorial Exhibition
March 6 – April 15, 2017
Draw the Line
, the 13th annual Betsy Meyer Memorial Exhibition, features the 2017 Meyer Family Award for Contemporary Art recipients Kelley Donahue (Brooklyn, NY), Joanna Platt (Philadelphia, PA) and Paul Santoleri (Philadelphia, PA). Drawing with ink, clay, and conduit, these artists investigate the permeable borders between internal and external matter, perception, and experience. Accessing both intuition and intellect, drawing and memory are the basis for inquiry. Their videos, installations, and sculptures create new worlds that illuminate and activate our galleries to create seductive narratives, uncanny characters, and immersive environments.
Opening Reception & Artist Talk:
Friday, March 10, 5:30-8:30 pm
Artist Workshops
A Twisting Tale of Burning Truths: Wire Sculpture and Soldering Workshop
(Adult Workshop) Joanna Platt | Thurs. April 6, 6:30-9:30 pm
Signs of Life: A Collaborative Drawing & Painting Experience
(Family Workshop: 4+ yrs & adult) Paul Santoleri | Sat., May 13, 1-3 pm
About the Exhibition
As an artist, Betsy exemplified what is most exciting about engaging with the artwork of living artists: watching them experiment with their media and tackling complicated and tough subjects. As a teacher, she encouraged her students to follow her example and expand their practice into new frontiers. And finally, as a member of the board and exhibition committee, she assured that the Art Center was there for the artistic community of Philadelphia. The Meyer Family Award for Contemporary Art, presented by Main Line Art Center in conjunction with the Betsy Meyer Memorial Exhibition, consists of an award of $1000 and a solo exhibition to each selected artist. This award and associated exhibition program is an effort to support the talented contemporary artists in the region, to honor deserving artists in the field, and to encourage excellence and experimentation in artistic practice, presentation, and community involvement. Approximately three artists are awarded annually. The 2016 recipients of the Meyer Family Award for Contemporary Art were Matthew Courtney (Philadelphia), Sun Young Kang (Bryn Mawr), and Zahra Nazari (New York), featured in
Transformations
, presented at Main Line Art Center in Spring 2016.