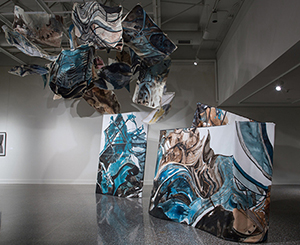 Transformations · Betsy Meyer Memorial Exhibition · 2016
March 7 – April 17, 2016
Transformations
, the 12th annual Betsy Meyer Memorial Exhibition, features the 2016 Meyer Family Award for Contemporary Art recipients Matthew Courtney (Philadelphia), Sun Young Kang (Bryn Mawr), and Zahra Nazari (New York). Masters of their primary mediums and inspired by cultural specificity, each artist expands their artistic practice to embrace installation with works that fully engage the audience in constructed objects, the spaces they inhabit, and the concepts they conjure. Through painting, ceramic sculpture, and paper arts, these artists transform, not only their own materials, but the galleries themselves into unexpected environments that dance between the evident and the ethereal.
Artist Talk & Opening Reception
Friday, March 11, 5:30 to 8:30 pm Artist Talk: 5:30 to 6:30 pm | Reception: 6:30 to 8:30 pm | Free
Artist Workshops | Click on titles to register
· Throwing Forms, Building Sculpture
| Matthew Courtney | Tues., April 5, 1-6 pm
· Persian Reverse Glass Painting
| Zahra Nazari | Sun., April 10, 1-4 pm
· Book-Making: 1 Sheet of Paper, 5 Ways
| Sun Young Kang | Sat., April 16 & Sun., 17, 9:30 am-12:30 pm
12th Annual Betsy Meyer Memorial Exhibition
Now in its twelfth year, Main Line Art Center is proud to present an annual exhibition in memory of Teaching Artist Betsy Meyer featuring the work of forward-thinking artists who are pushing boundaries within their artistic practice. As an artist, Betsy exemplified what is most exciting about engaging with the artwork of living artists: watching them experiment with their media and tackling complicated and tough subjects. As a teacher, she encouraged her students to follow her example and expand their practice into new frontiers. And finally, as a member of the board and exhibition committee, she assured that the Art Center was there for the artistic community of Philadelphia.
The Meyer Family Award for Contemporary Art, presented by Main Line Art Center in conjunction with the Betsy Meyer Memorial Exhibition, consists of an award of $1000 and a solo exhibition to each selected artist. This award and associated exhibition program is an effort to support the talented contemporary artists in the region, to honor deserving artists in the field, and to encourage excellence and experimentation in artistic practice, presentation, and community involvement.
Approximately three artists are awarded annually. The 2015 recipients of the Meyer Family Award for Contemporary Art were Seunghwui Koo (New York), Tasha Lewis (New York), and Kate Stewart (Philadelphia), featured in Tweak of Nature, presented at Main Line Art Center in Spring 2015. 2016 Recipient Sun Young Kang was a finalist for the award in 2015.