Art in Action
April 29 – June 2, 2018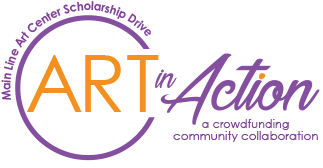 Art in Action
, Main Line Art Center's 2018 spring exhibition and scholarship drive, will feature the work of
Jessica Curtaz
(in collaboration with Pennsylvania School for the Deaf),
Ariel Edwards, Elaine Lisle, Deirdre Murphy and Scott White (in collaboration with a student from The Shipley School)
, and
Bernice Paul
. Through mixed media, installation, ceramics, and painting, these artists each represent a different facet of our creative community: accessible art programs, teachers, students, members, and staff. Together they embody our vision of art for everyone. The opening celebration on
April 28th
will kick off our crowdfunding campaign designed to increase the number of need-based scholarships we grant each year to children, adults, seniors, veterans, and families. Through Art in Action, we hope to raise scholarship funds, celebrate our artistic community and honor our mission to make art accessible to everyone.