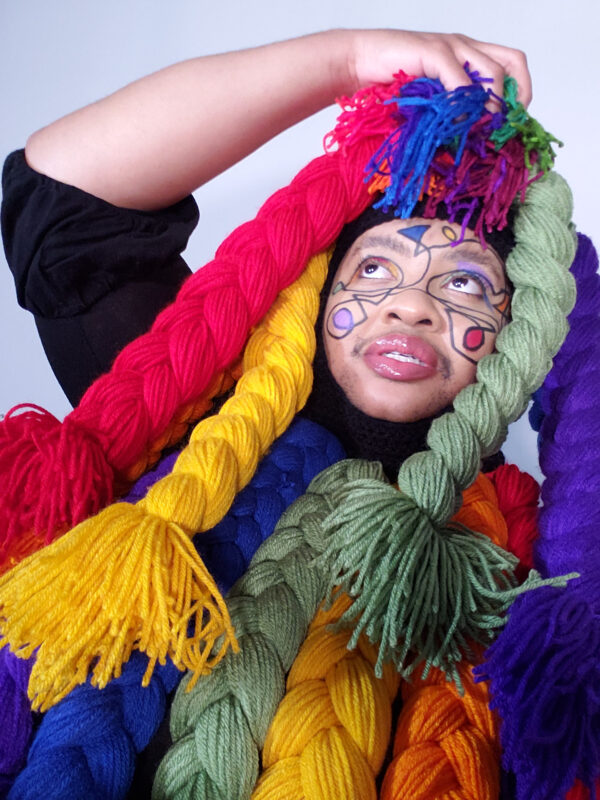 …a place where there's love overflowing!
February 6 – March 31, 2023
Located in our front lobby Welcome Gallery
Resident Artist Wit Lopez
This display is dedicated to chronically ill and disabled artists who can no longer safely engage in the arts and culture sector. It is a reminder that we exist and deserve to continue to be a part of the arts community without having to put our wellness and lives on the line.
The choice of pastel colored yarn was a deliberate one–soft, joyful, sweet. These colors and textures are in stark contrast to the harshness and hardness of the white stoneware clay, 2″ metal spikes, and wood. The hard elements represent the myriad difficulties of navigating art spaces as an immunocompromised person, when life has so much potential to be soft, joyful, and sweet, like the yarn.
About the Artist:
Wit López is a disabled, gender-evasive multidisciplinary creator, performer, and advocate of African American and Boricua descent. Their practice combines fiber art, painting, collage, and photography and contains elements of their formal training in theatre, dance, and classical music, including costuming, staging, and props.
Through fiber and imagery, López explores hairiness, accessibility, queerness, gender identity, Blackness, and Latinidad, while also fully embracing absurdity and the macabre.
About the Residency:
Main Line Art Center's Residency for Artists with Disabilities provides local, emerging artists with space to work, mentorship, resources to create original artwork, and a public space to exhibit their artwork. Intended to help destigmatize disability, the residency promotes artists' contributions to the Greater Philadelphia arts and culture landscape and provides a public platform for unique perspectives and connection.