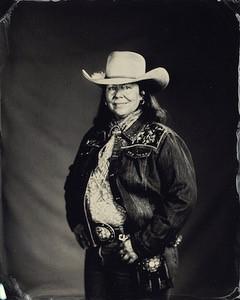 Tintype Portrait Demonstration & Workshop
This class has already started. Please call to register.
In this session, you will be show and directed through the entire tintype process. This process is also referred to as wet plate collodion process or ferrotype.
All materials and equipment will be provided.
The tintype is a positive photograph taken on a thin metal plate. The process begins with applying a collodion emulsion to a metal plate, the plate is placed into a silver nitrate bath for 3 minutes (creating a light sensitive emulsion) – removed from the bath and placed into a light tight plate holder which is then placed into the rear of a camera. An exposure is made (generally around 3-5 seconds), the plate is then taken to a dark box (portable darkroom) and developed for approximately 15 seconds – thoroughly rinsed in water which renders the plate no longer light sensitve. The plate is then taken into the light and placed into a fixing bath for about 1 minute – then thoroughly washed in water, dried, and varnished.
The tintype was invented in the mid 1800s and was very popular during the mid 1800s and was very popular during the Civil War. For our demonstration, we will make portraits of the participants and each participant will leave with a tintype.
Student Supply List: