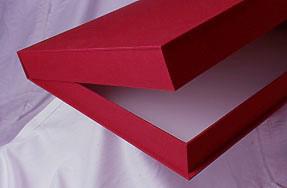 Building Lipped-Clamshell Portfolio Workshop
This class has already started. Please call to register.
Learn how to make a custom Lipped Clamshell Porfolio in this 2-day workshop. We will begin with a discussion of all the steps involved, from design to completion. The portfolios will be constructed of book-board, covered with paperbacked bookcloth and lined with artist paper. Various alternative materials will be discussed as we proceed through the workshop.
Clamshell porfolios have multiple uses in the world of book arts, providing protection, storage, as well as beauty in and of themselves. The Lipped Clamshell Portfolio has long been considered the accepted manner of presentation for photographic and print portfolios. A clamshell porfolio is also a handsome and elegant way to store family heirlooms, such as personal documents, memorable correspondence, or your cherished family bible.
Student Supply List: