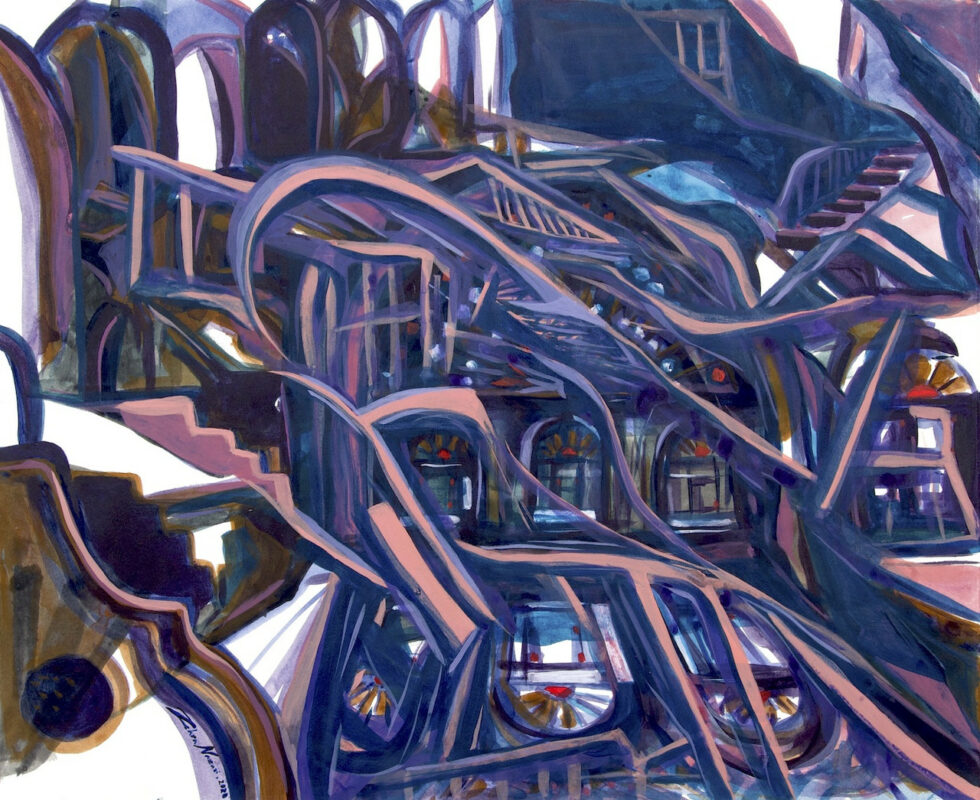 Zahra Nazari
Year Participated: 2016
How did showing in the exhibition impact your career as an artist?
"The exhibition allowed me to freely create an art installation that in many typical gallery spaces was not possible. Having images of the exhibition in my portfolio represents the diversity of ways that my work can be displayed."
Artist Biography
Zahra Nazari is a New York City-based painter, sculptor, and installation artist who focuses on architectural themes in multicultural contexts.
Born to a family of architecture enthusiasts in Hamedan, Iran, Nazari has built her career as a visual artist on the foundation of memories from her youth. The experiences she had visiting archaeological digs throughout Iran continue to inspire and inform her work, which is deeply influenced by ancient Persian art and architecture and the landscapes in which they have historically blossomed.
Since her migration to the United States, Nazari's work has evolved into a formal blending of Persian and Western architectural styles, specifically European futurism. As her approach has developed, the color palette of her paintings has progressively grown from dark and intimist tones to more colorful expressions enlivened by energetic brush strokes. These changes reflect, in part, her perspective as an immigrant New Yorker and echo the speed, technology, and industrial landscapes of contemporary urban life – the very elements she admires in post-modern futurism.
One of her most iconic works, "Unification," is a 12-gauge stainless steel sculpture that was exhibited at the High Line Nine Gallery and in the Sculpture Space Garden. The work reimagines modern Persian architecture within a Western, futurist context. The hard work of sculpting steel – a key ingredient in Europe's industrialization – mirrors the conceptual labor of uniting disparate cultures into a single element, and reminds us of the urgent need for diverse perspectives and dialogue.
Nazari has discussed these themes and others in artist talks and on panels at a variety of institutions, including NYU, Columbia University, Cooper Union, and Pratt Institute in New York City. Her work has been reviewed and published in Artefuse, Hamptons Art Hub, Hyperallergic, Whitehot Magazine, ZH Magazine, and more.
Nazari's work is found in private and public collections around the world and she exhibits widely. Among other venues, Nazari's work has been featured in shows at The Bronx Museum of the Art (New York); Samuel Dorsky Museum of Art (New Paltz, NY); High Line Nine Gallery (New York); MANA Contemporary (Jersey City, NJ); Spartanburg Art Museum (Spartanburg, South Carolina), Masur Museum of Art (Monroe, LA); New York Academy of Art (New York); Denise Bibro Fine Art (New York); Illinois Institute of Art (Chicago); China Millennium Monument (Beijing, China); Lite-Haus Galerie (Berlin, Germany); Saba Institution (Tehran, Iran); and Baran Gallery (Tehran, Iran).
Nazari has also received a number of prestigious grants and fellowships, including a Creative Engagement Grant from the Lower Manhattan Cultural Council (New York); FST Studio Projects Fund (New York); the AIM Fellowship from the Bronx Museum (New York); a Visiting Artist Fellowship from MASS MoCA (North Adams, Massachusetts) and Cooper Union (New York). She has been an artist in residence at Sculpture Space (Utica, NY), and the Vermont Studio Center (Johnson, VT), among several others.
Nazari received her BFA from the School of Art & Architecture in Tabriz, Iran, and her MFA from the State University of New York in New Paltz in 2014.