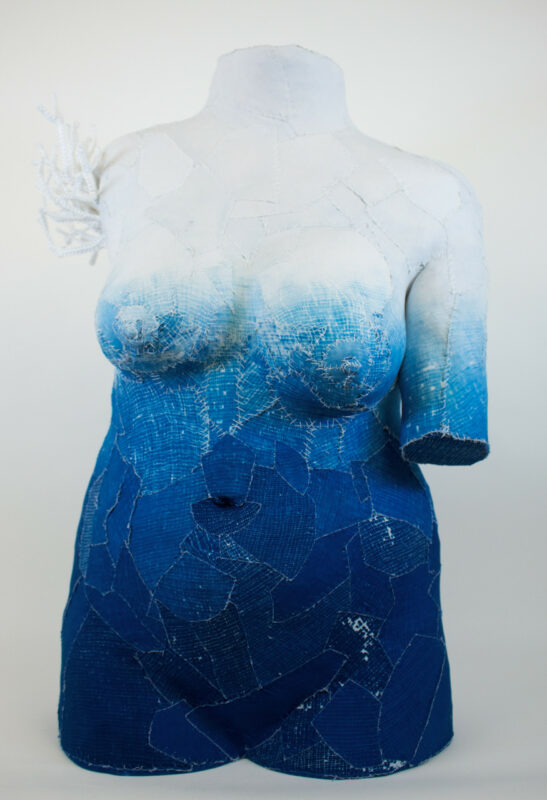 Tasha Lewis
Year Participated: 2015
How did showing in the exhibition impact your career as an artist?
"This exhibition came at a pivotal moment in my earlier career, and allowed me to present a wide range of cyanotype sculptures around various themes. My work has evolved quite a bit since 2015 and I think it really helped me progress to see my work in a new context outside the studio. I also really enjoyed teaching a cyanotype butterfly workshop at the art center, and they helped clarify that I wanted to return to get my MFA so I can teach art- which I did."
Artist Statement
My current body of work is a meditation on the heirlooms of tat lace I inherited from my Great-great Grandmother. Painting with thread is an obsession of mine. So too, is painting with light. Cyanotypes and lacework have become a mode for me to speak about the power and presence of hand-work. Through their chemical process, blueprints trace each ghostly thread, and placed together, my audience is forced to consider not only the presence of the lace or embroidered object, but also its echo as image. For me, this doubling of textile's matrix reinforces the structural, mathematical nature of this labor. Further, my explorations to push the bounds of digital embroidery, only emphasize the computational nature of thread arts. Cross-stitch was a pixel image long before we had screens to mimic it. I seek to create blue portals, formed and framed by lace-work and its tools to tell the story of lace in our culture.
Artist Biography
Tasha Lewis's wide-ranging sculptural practice employs the body of the artist as a starting point for investigations into the interconnected histories of textile and technology, and the ways in which history's multiple returns to the female form both empower and undercut her own influence in systems of power.
Her debut solo museum exhibition, Flood Lines, at the Parthenon Museum in Nashville, TN was on view from January through July of 2020. The body of work was profiled by the National Endowment for the Arts magazine as well as the Tri-Star Art's Online video series, Liminal Space. The ombré dyed textile skins and bead encrusted bodies had previously been explored in her Ebb Tide and Full Fathom Five exhibitions at the Philadelphia's Magic Gardens and the Sarasota Art Center. A wide range of Lewis's work has been shown across the United States in group shows at the Bronx Museum of the Arts, the Spartanburg Art Museum, the Philadelphia Art Alliance, the Sotheby's Institute.
Lewis holds a Master of Fine Art from the University of Tennessee, Knoxville and a Bachelors of Arts from Swarthmore College in Pennsylvania. Her academic study has consistently woven literature, theory and art history with her materially expansive visual art practice. She has been supported by professional development programs including The Artist-in-the-Marketplace at the Bronx Museum of Art in 2014 and Creative Capital, New Jersey in 2018.