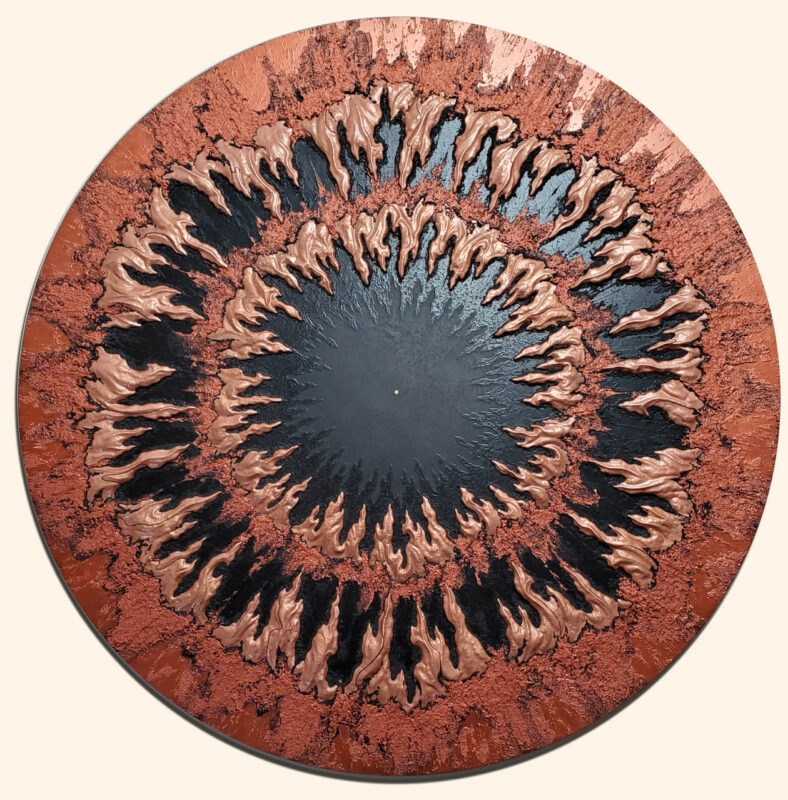 Maureen Drdak
Year Participated: 2007 & 2008
How did showing in the exhibition impact your career as an artist?
"The recognition of my work through two Betsy Meyer Memorial Exhibitions was a very significant factor in my decision to apply for a U.S. Fulbright Fellowship, which I had the great honor of receiving in 2011. The award of a Fulbright Senior Scholar Fellowship to Nepal in Art was a life changing event, which set me firmly on the creative path I continue to pursue. The result of my research in the Himalayan country of Nepal led me to my ground-breaking material synthesis of repousse metalwork and contemporary painting. To date, I am the only artist employing this unique material synthesis.
Under Fulbright aegis I studied with Master Rabindra Shakya, grandson of the historic Master Kuber Signh Shakya of Okubaha, in Patan Nepal. This family's celebrated artist lineage dates from 1654, and its venerable masters were patronized and decorated by the former kings of Nepal. In 2014 this family completed its colossal monument of the Statue of Liberty. Simply and truly stated, this family represents the finest living masters of the repousse practice, a metalworking discipline of great antiquity dating back to the bronze age in Mesopotamia.; indeed, the Kathmandu Valley of Nepal is today recognized as the global epicenter of this ancient material form.
My research with Master Rabindra Shaya, to whom I continue to return for study, was described by the late recognized expert of Napali art, Dr. Mary Slusser of the Smithsonian Institute as "revolutionary" and as "represent(ing)… an inspired coupling apparently without antecedents." Yet, I am ever mindful of the importance the Betsy Meyer Memorial Exhibition played as a critical impetus for my pursuit of that vision, and of its important recognition of my work. I continue to pursue the exploration of the expressive possibilities of my material synthesis most notable in my current series in production, "Ardens Mundi." This monumental series presents a collective portrait of a planet in violent turmoil – each anti-world prefiguring an apocalyptic face of global warming. A developing series of ten planned works, the series is envisions as a sublime procession of "burning worlds," each incarnating a specific impact of climate change."
Artist Statement
My work embodies an exploration of philosophical and cultural synthesis in which eastern and western material practices and cultural paradigms are meaningfully integrated; oppositional materials, divergent aesthetics, and symbolic language are explored and deployed in the service of transcultural bridging. Over the last decade my work has been deeply inspired by my travels in Asia – especially the Himalayas and Nepal – where I studied ancient metalworking practices with its finest living historic repousse masters, the venerable descendants of Kuber Singh Shakya, a priestly family of five hundred year old celebrated lineage, decorated by the kings of Nepal. These dynamic mountain landscapes of the Himalayas are powerful metaphors for the universality of physical and cultural forces in opposition and integration; they are the embodiment of perpetual change. My selection and application of materials are reflective of these protean energies in eternal congress. The ominous forces of global warming and globalization present unique threats and challenges to these sublime geographies and their ancient cultures – the Himalayas are the third fastest side of global warming.
Artist Biography
A graduate of the Pennsylvania Academy of the Fine Arts and the University of the Arts, Maureen Drdak is the recipient of the 2011 U.S. Fulbright Fellowship for Art in Nepal. She is the recipient of personal support from H. F. Lenfest and Eugene V. Thaw for Lung-Ta, an interdisciplinary collaborative with Philadelphia based international composer Andrea Clearfield. Her work is found in numerous public, private, museum, and university collections within the U.S. and abroad, among them the Berthe and John Ford Collection, Shelley and Donald Rubin Collection, Lynda and Stuart Resnick, and Emir Hamad Al Thani and Sheikha Mozah of Qatar. Drdak's 2011 Fulbright Fellowship in Nepal pioneered and established the first material synthesis of repousse metalwork and contemporary painting. She studied with and continues to maintain an unique relationship with the grandsons of the famed historic repousse Master Kuber Singh Shakya; her teacher and colleague is Kuber Singh's second grandson, Master Rabindra Shakya of Okubahal, Patan, Nepal. Her exhibition history includes national and international venues, arts festivals, and museum and academic lecture venues by invitation. She has several published works to her credit, including international arts magazines and peer reviewed journals. Drdak is recent past President of the Fellowship of the Pennsylvania Academy of the Fine Arts, and past Advisor to the Board. Drdak is represented by Independent Art Consultants in the United States, Europe, and Asia.