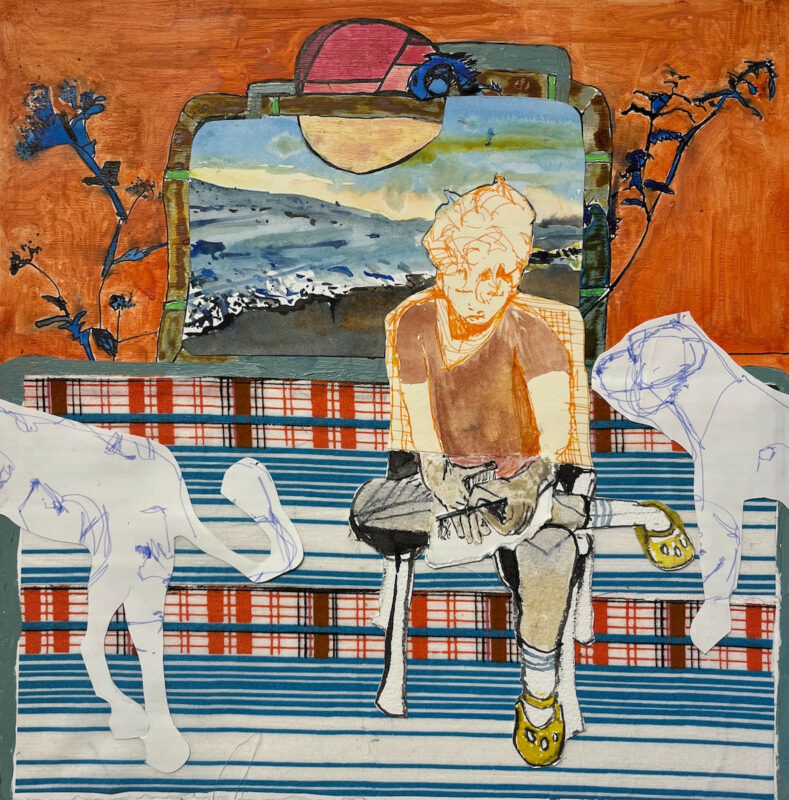 Janell Olah
Year Participated: 2007
How did showing in the exhibition impact your career as an artist?
"In 2007, the Betsey Meyer Memorial Exhibition was a group show, so it did not have the stipend or exposure that it has now. However, I was able to show right out of graduate school and it increased my exposure in the Philadelphia region where I had only recently relocated."
Artist Statement
My current collage work is a result of how I experience time in and out of the studio. I draw whenever I can, and I draw what is in front of me…private interior spaces, friends and family, public and private landscape. When the separate drawings come into the studio, I can then work with them to create connections, tell a story, or capture a moment. The work is often full of pattern and formal design, but imbued with a humanity that hints at nostalgia, wonder, or internal musings.
Artist Biography
Janell and her family relocated from Philadelphia to Lancaster PA in 2019 to live next to her sister and fulfill the dream of a cousin commune. She maintains a home-studio where her practice moves fluidly from project to project. Janell received her MFA from the University of Delaware in 2006. She has participated in the Fabric Workshop and Museum's Apprenticeship Program, the Cooper Union School of Art Summer Residency Program, the 2014 Fleisher Wind Challenge Series, and the Philadelphia International Airport's exhibition program. Janell has exhibited her work in many locations including Philadelphia, Brooklyn, Baltimore, Washington DC, and Miami. Professionally, Janell works as a costumer, an occupation that often seeps into her studio work, formally and thematically.