Hanna Vogel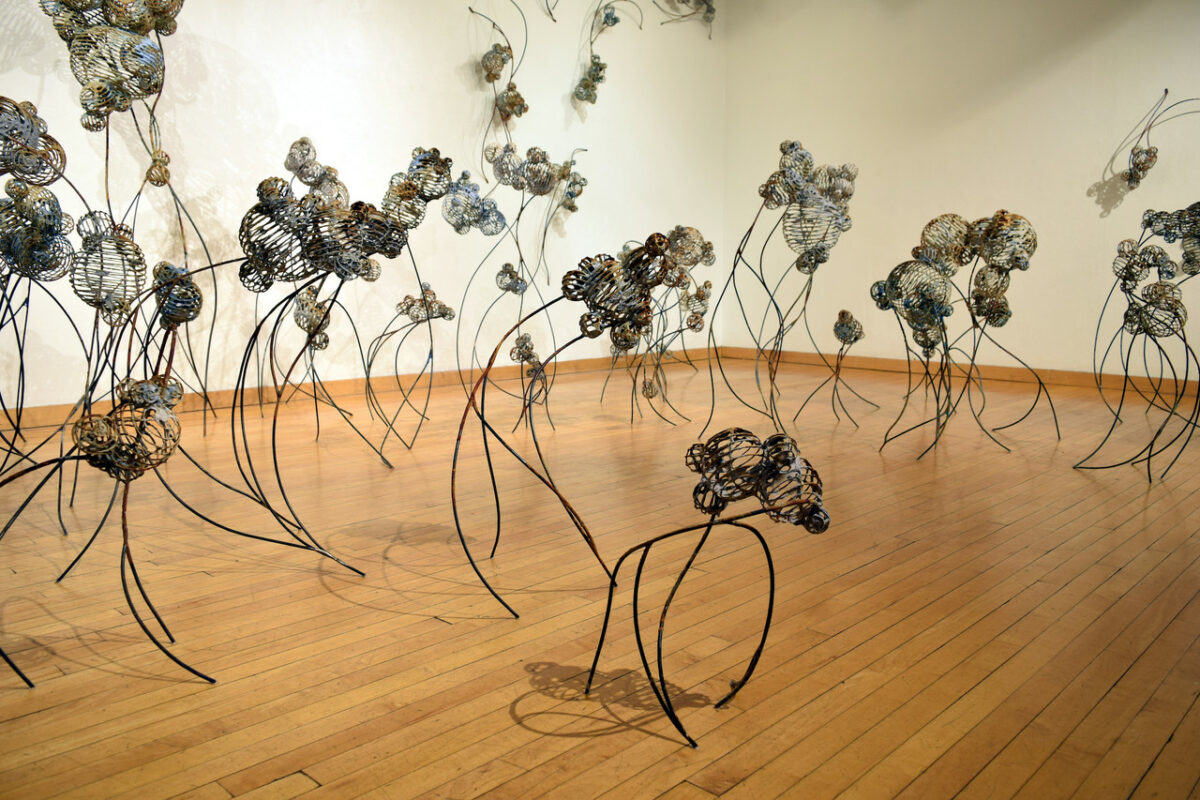 Year Participated: 2018
How did showing in the exhibition impact your career as an artist?
"I had lived in Philadelphia for less than a year when I participated in the Betsy Meyer Exhibition. Being part of it not only introduced me to many artists and arts professionals in the area, but was also a concrete demonstration of my work and professionalism. As a result, I was able to find more work teaching art at local art centers, including Main Line Art Center, and I saw a dramatic increase in local exhibiting opportunities that became available to me.
Installing my work in the large gallery space also provided the opportunity to take new photos of my work that have served me well in a variety of contexts since then. As a recent MFA grad (class of 2017), being awarded a solo exhibition and grant was an endorsement of my work, abilities, and potential that has helped advance my career since."
Artist Statement
I create imaginary spaces and growths that investigate the effects of the climate crisis on our collective psyche. My paper pulp and woven wire sculptures create forms and textures that evoke the tenuousness of natural lifecycles. By referencing organic dissolution, they address aspects of existence on the edge of potential collapse. The physicality of my materials speaks of the possibility of their demise—a wrinkled, skin-like paper coating is stained and stretched by its rusting steel wire skeleton, while thin sheets of handmade paper form objects that make unfulfillable promises.
Along with these materials, the scale and visual delicacy of my work allude to spatial and physical considerations of human bodies. The size and placement of these objects compared to the body describe the nature of their relationship. Some sit at human height, openly inviting the viewer into their world like a child's picture book invites the reader. Others stretch overhead, keeping their physical selves and their promises out of reach. By both displaying and protecting their vulnerabilities, these objects underscore the precarity of embodied existence. In doing so, they aim to cultivate empathy for the physical world around us and for our own impermanent selves.
Artist Biography
Hanna Vogel is an artist and educator living in Philadelphia, PA. She grew up in rural Northern California and received a BFA from the California College of the Arts and an MFA from the University of Massachusetts Dartmouth. In her work, she uses craft-based materials and techniques in non-traditional ways to make sculptures and installations that examine the psychological effects of the climate crisis. She has exhibited her work nationally and internationally, including at The Huntington Museum of Art, The Spartanburg Art Museum, The Delaware Contemporary, The National Taiwan Craft Research and Development Institute, and the Biblioteca Henestrosa in Oaxaca, Mexico. She has presented and published papers internationally and has received fellowships/grants from Yaddo, the California College of the Arts, I-Park, Sculpture Space, The Künstlerdorf Schöppingen Foundation, and Lighton International Artist Exchange Program among others.