Diane Lachman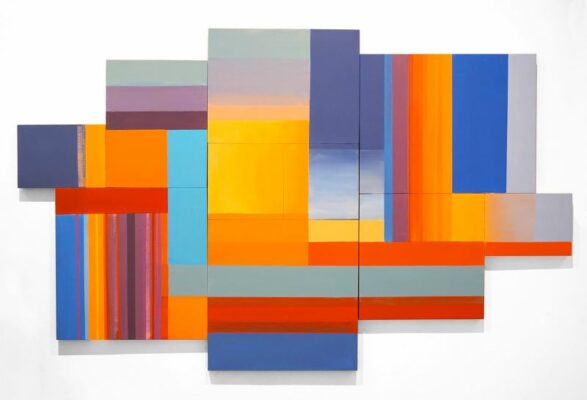 Year Participated: 2008
How did showing in the exhibition impact your career as an artist?
"I was a member and a teacher at Main Line Art Center for several years and was acquainted with Betsy Meyer at this time. In 2008, it was an honor to be accepted into the Memorial Exhibition. To be accepted by Sueyun Locks was an affirmation of my work and inspired confidence. It gave me a feeling of belonging to this artists' community which continues today."
Artist Statement
In my abstract paintings and photographs, I search for a way to reconcile opposing forces in life and nature: light and shadow, rhythm and order, control and surprise, clarity and mystery. I discover equilibrium by making connections between color, form, and meaning.
Although, I am influenced by my observations, Bauhaus teachings, ancient architecture, textile design, and the places I have traveled, color remains my primary source of inspiration. My years of experience studying and teaching color theory complements my intuitive approach to visual communication in my painting.
My photographic pandemic project began in March 2020, when we were sheltering at home. Looking through the lens of the camera inspired me to escape the painful reality and isolation of the pandemic. Reflection is a property of light, but it is also time to question and examine my thoughts and surroundings. Changing my viewpoint completely changes the reflections of what I see.
Now that I am back to painting in my studio after this intense technical experience, I see a change in my point of view. Color and light remain my source of inspiration, but I have a new freedom and awareness about how to communicate personal feelings and reactions to world events with the colors, lines, and shapes in my work.
Artist Biography
Diane Lachman's inventive abstract paintings and photographs emphasize the expressive power of color. She studied at Rhode Island School of Design and the Cleveland Institute of Art and earned her BFA and MFA degrees from the School of Design at University of Pennsylvania, where she taught Color Theory and Drawing from 1993 to 2014. In 2021, she had her first photography exhibit, "Refracted World" at Muse Gallery. Her photography project began in March 2020, when Covid-19 forced us to shelter at home. After a year of experimentation with the refraction of natural light through prisms, she created complex and vibrant images that reflect our experiences during these tumultuous times.
Diane Lachman's work has been widely exhibited in museums, galleries, and juried exhibitions, including twelve solo exhibitions.
Recent highlights include In The Umbra at Chimaera Gallery in Philadelphia, PA, curated by Neferteri Strickland, The Woodmere Annual 81st Juried Exhibition at the Woodmere Art Museum in Philadelphia, PA, juried by Doug Bucci, the 2022 PhotoEx Juried Photography Exhibit at the Media Arts Council, Changelings at Powell Lane Arts, Collingswood, NJ, When the Light Comes In, Through the Grid and Collective Awareness at DaVinci Art Alliance, and Color in Exuberance at The Yard presented by InLiquid, Philadelphia, PA.
From 2020 to 2021, her work was displayed in Unprecedented Times: A Socially Distanced Art Project. This show was exhibited at the EKG Gallery, University City Science Center in Philadelphia. Lachman's photographs were included in the Femme Collective Premiere at the Susanna Gold Gallery on Artsy.net
She participated in many juried exhibitions at The Delaware Contemporary, Wilmington, DE, The Perkins Art Center in Moorestown, NJ, Jefferson Hospital, the Rotunda in the Capital Building and the State Museum in Harrisburg, PA, Burrison Gallery and Addams Gallery at the University of Pennsylvania, The Old City Jewish Art Center in Philadelphia, and Professional Artist Members Juried Exhibitions at the Main Line Art Center in Haverford, PA. Her painting, "Summer," was published in Studio Visit Magazine.
She was the director of the Muse Gallery in Philadelphia from 2019 through 2022 and has been a member since 2010. She maintains a studio at the Artists Mills in Manayunk. Her paintings are represented in numerous private and corporate collections including New York Presbyterian Hospital, The Art Collection at The Howard Gittis Student Center at Temple University, The Art Collection at Park Towne Place in Philadelphia, and the Lankenau Medical Center.