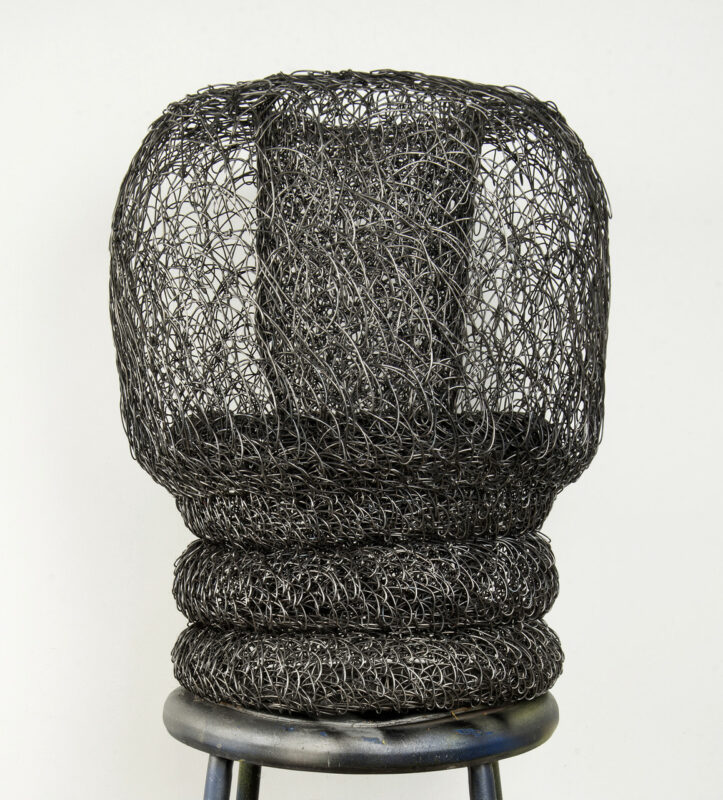 Becca Barolli
Participating Year: 2022
How did showing in the exhibition impact your career as an artist?
"I was able to meet other artists on the east coast, exhibit my work to a new audience, and the award money helped me cover the cost of supplies."
Artist Statement
I make abstract sculptures out of steel wire by using textile processes to examine obsession and control. Traditional craft techniques like weaving, braiding, and knotless netting can be seen with varying degrees of tension and density to consider the differences in being open or closed off, relaxed or uptight without passing judgement on either condition. This work is very labor-intensive, fueled by a compulsive need for repetition and reverence. Structures are often comprised of obsessively repeated gestures that are dysfunctional given the intended purpose of the materials yet ambitious given the context.
Using steel wire instead of conventional fibers subverts textiles as a medium and pushes the range of expectations associated with hard and soft. I explore vulnerability and dysfunctional behavior by constructing objects that reference penetrable boundaries or are in some way arbitrarily constrained. A desire for control is an inherent acceptance of disorder in the lack of precision or adherence to traditional materials in craft. This dichotomy between total control and chaos is negotiated throughout the work.
Artist Biography
Becca Barolli was born and raised in North Granby, Connecticut. She received a BFA in photography from the University of Connecticut in 2010 and an MFA from the San Francisco Art Institute in 2016. As a graduate student she received a Cadogan scholarship from The San Francisco Foundation and SOMArts Cultural Center in 2015 and a year later was awarded the Ella King Torrey Award at graduation for creative innovation in her studio practice. Becca currently lives and works in Bethlehem, Connecticut. She has completed residency at The Studios at Mass MoCA in North Adams, MA and was the 2019 Senior Fellow at Gallery Route One in Point Reyes Station, CA. She has exhibited work at the de Young Museum, Andrea Schwartz Gallery and Chandran Gallery in San Francisco, CA, Miranda Kuo Gallery in New York, NY, and Last Projects in Los Angeles, CA. Her work is collected internationally.