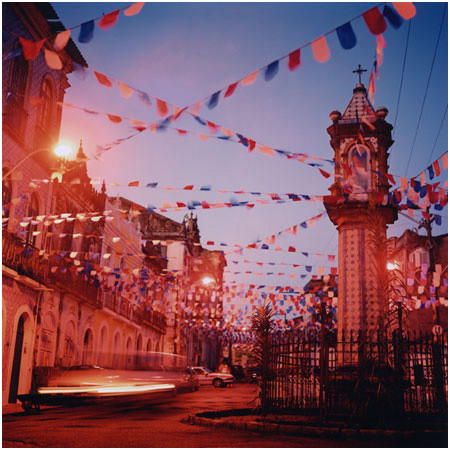 Amie Potsic
Year Participated: 2010
How did showing in the exhibition impact your career as an artist?
"Participating in the 2010 Betsy Meyer Exhibition as an artist was a great introduction for me to Main Line Art Center and to the curator of the exhibition, Chuck Thurow of Chicago. The positive experience encouraged my later becoming involved with the art center as a lecturer, curator, and Executive Director. It was a dynamic precursor to the 5 exhibitions of the Betsy Meyer Memorial shows that I curated between 2013 – 2017."
Artist Statement
Amie Potsic is photographer and installation artist whose work addresses cultural, personal, and natural phenomena and inspires her solo photographic journeys across the globe. Enamored with Brazil, Potsic spent several months photographing there during religious festivals and the World Cup, both of which drew people together to celebrate and forget their struggles and economic inequality. Festival Flags adorned every town square, encouraging Brazilians towards unrestrained revelry in honor of saints and soccer. Like carnival, these shared celebrations allow for a divided society to temporarily suspend the strong, yet unspoken, rules governing race, class, culture, and religion.
Artist Biography
Potsic has exhibited her work internationally at the Art Park in Rhodes, Greece; Museo de Arte Moderno de Bogotá, Colombia; Medfoundart di Cagliari, Italy; the Royal College of London; the Museum of New Art in Detroit; The Woodmere Art Museum, The National Constitution Center Museum, The Painted Bride, and James Oliver Gallery in Philadelphia; The Delaware Contemporary in Wilmington, DE; Mission 17 in San Francisco; and 626 Gallery in Los Angeles. She won Best in Show for her work in Experimental Photography Today at The Delaware Contemporary in 2015 and was featured in Keystone 1, the inaugural Pennsylvania Photography Biennial, at Silver Eye Center for Photography in Pittsburgh the same year. Potsic received her MFA in Photography from the San Francisco Art Institute and BA's in Photojournalism and English Literature from Indiana University, graduating with Distinguished Honors and a member of Phi Beta Kappa Honor Society. She has held faculty appointments at the University of California at Berkeley, Ohlone College, and the San Francisco Art Institute and published her work in The San Francisco Chronicle and The Philadelphia Inquirer. Potsic has been a guest lecturer at The International Center of Photography and is the host of the Art Watch Show & Podcast on WCHE 95.3 FM in Greater Philadelphia.