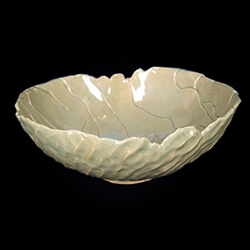 Marea Palmer-Loh
Ceramics
Working predominately in clay, Marea Palmer-Loh's art can range from the fluid and organic to the figurative and humorous. Marea takes delight in surprising the viewer.
Marea's most current works are often produced with commonplace household items such as spaghetti and Cheerios. Imprints of bubble wrap allude to a honeycomb and overcooked pasta to a cracking desert. Marea's work reflects the notion that something artificial and mundane can become something organic and unique.
Marea Palmer-Loh received her degree in art from Pomona College and currently lives in Philadelphia, PA.