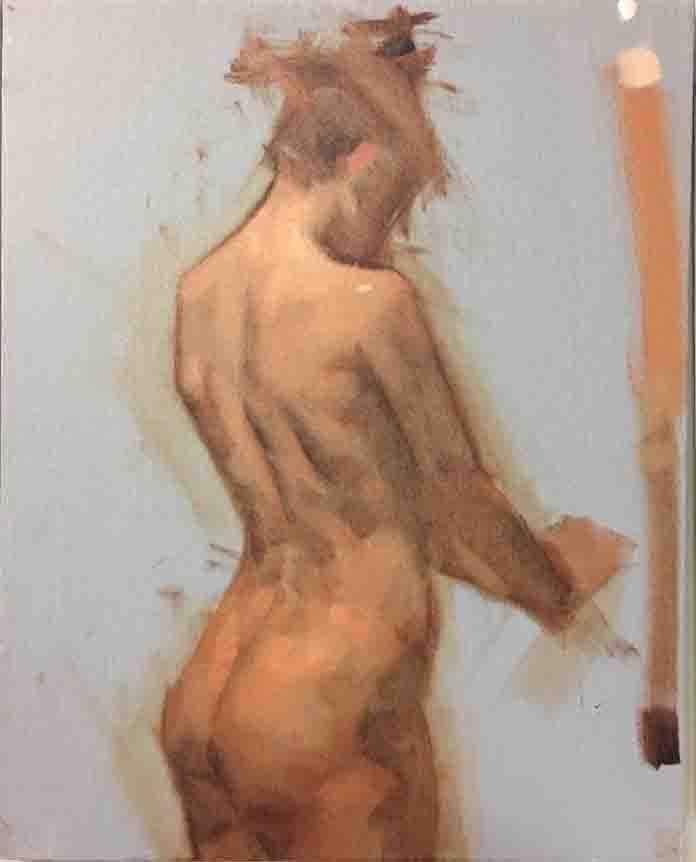 Visiting Artist Workshop: Painting the Figure with A Limited Palette
Learn gesture block-in, linear construction, proportion adjustment using anatomic landmarks, value/temperature calibration, and paint application through a series of exercises in a sequential order, from basic to complex. The workshop will start with shorter exercises and end with a 3-hour pose. Instruction includes lectures, demos, and individualized guidance according to each student's needs and skillset.
Student Supply List:
Students can bring materials they normally use. However, instruction and demo will focus on oil paints, and the following materials work best for the intended purposes of this workshop. If financial circumstances allowed, I encourage everyone to try them out.
BRUSHES Several Filbert brushes, #4 by Silver Grand Prix and other shapes/sizes
CANVASES Have at least Two 16×20 toned* canvases ready daily
PAINTS Unless otherwise noted, Winsor Newton Professional Grade Paints are recommended, especially for Burnt Sienna


Burnt Sienna
Perylene Red (Gamblin) OR Venetian Red (Gamblin) OR Cad Red Deep
Cad Yellow Pale OR Yellow Ocher Light/pale
French Ultramarine Blue
Titanium White
Ivory Black (optional)

A prepared wooden palette
Palette cups or seal-able jars
Odorless mineral spirits
Viva Paper Towels
A palette knife
*CANVAS TONING PROCESS: For acrylic primed canvas only: On acrylic primed canvas, apply one coat of Golden Acrylic N6 Neutral Gray paint diluted with water to the consistency of "half and half" (roughly 3 parts water and one part acrylic paint) on the canvas with a household (2-3")paint brush. To apply the tone, first cover the entire surface of the canvas with the mixture with the household paint brush. When the surface is completely covered make sure the paint surface is smooth by lightly dragging the same brush across the entire canvas the long way (parallel to the 20" edge). The finished canvas should have a uniformly smooth gray finish with some canvas showing through the brush marks. Apply one coat only. You can tone one canvas and let dry to see the result and adjust the mixture if necessary before toning the rest. For best result, tone the canvas at least 24 hours before use even though the acrylic dries to touch in as little as 20 minutes.